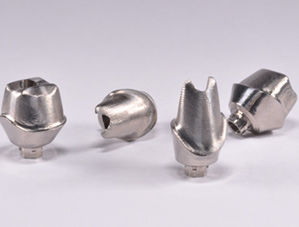 CAD/CAM-abutments
Voor CAD/CAM-abutments en frames wordt de abutment of het frame volgens de specifieke CAD/CAM-systeemeisen gescand. Abutments/frames kunnen met de meeste CAD/CAM-systemen worden gemaakt. Neem voor meer informatie contact op met uw Neoss-vertegenwoordiger.
Houd rekening met de voorschriften van de fabrikant voor smelten, gieten, hardingstijden en temperaturen.
Wanneer de abutment of het frame is gegoten, worden de NeoLinks™ teruggeplaatst in het frame en op het moedermodel aangebracht.
Voor deze techniek zijn verschillende soorten lijm en cement geschikt. Volg de aanbevelingen van de fabrikant.