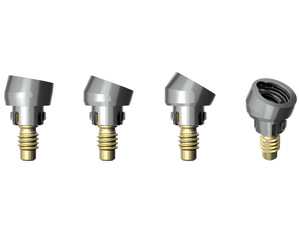 Gehoekte access abutments
Met de access abutment wordt het Neoss-systeem nog veelzijdiger doordat naast rechte ook gehoekte geschroefde reconstructies mogelijk worden. De kleinst mogelijke hoek is 10° met een interocclusale afstand van 4,5 mm.
De access abutment vormt een rechte of gehoekte verlenging van het implantaat. Dit maakt het mogelijk aan het abutment te werken in plaats van rechtstreeks op het implantaat.
Met de access abutments met hoeken van 10°, 20° en 30° kan het schroefkanaal ook bij ongunstige hoeken optimaal worden geplaatst.
Reconstructies op basis van NeoLinks kunnen worden gevat in goud, keramiek of vaste frames van titanium of keramiek.